Dog Walking & Running in Cheshire & Southington CT with  Canine Fitness Coach Alex.
Alex MacDonald is our Full Time Manager & Canine Fitness Coach.  He has been a part of the SPS Team since 2010.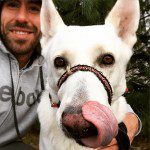 Alex grew up with a beagle named Casey and is now the Dad of two cats Batman & Jaws.  He is a pet enthusiast & his favorite day of the week is well known to be "Caturday."  Alex is also a fitness aficionado and is an active member of Physique Plus in Cheshire & CrossFit Bethany.  Alex will be available for Leash Running & Jogging in Spring & Summer 2015.  Please see our Dog Walking page for rates.