Doggie Walk Please!
As many of you know Sarah's Pet Sitting is now offering a dog walking service in all of Cheshire & Wallingford and many other nearby areas with our Professional Pet Sitters.  Please visit Our Team page to learn more about them.  Afternoon Dog Walks with SPS cost between $20 – $25 per visit depending on your location and the number of days needed.
Ever wonder about this type of service for your dogs?  Here's what you need to know.
Availability
Dog walking service is available seven days a week 365 days a year.  With our six excellent Professional Pet Sitters available you can book your dog walking service year round without interruption.  You can also choose to book your dog walks on a recurring schedule or an irregular schedule as needed.
Arrival
At Sarah's Pet our most popular dog walking time is 11 a.m. to 2 p.m. However we have time windows available 7 days a week from 7 a.m. – 10 p.m.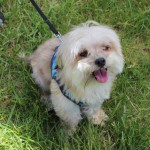 Length
Our regular afternoon dogs walk visits average about 30 minutes in length.  We spend a little less or extra depending on the needs of your pet on any given day.  We can also do longer visit of 45 minutes or 1 hour; just let us know if your dog needs A LOT of exercise.
Activity
We can Leash Walk or Leash Run your dog of course but that's not required, we can substitute yard playtime, or inside snuggle time.  We can spend the time however your dog prefers, just let us know.  In the summer months we can substitute doggie pool play time if you can provide a kiddy pool.
Multiple Dogs
Multiple dogs are not a problem at all, the more the merrier!  We DO NOT charge extra for extra pets.  We can walk most well behaved dogs together, but remember we only ever walk dogs from one household at a time for the safety of your pets.
Safety
Safety is our #1 priority.  We request that all dog walk clients provide an Easy Walk harness and short sturdy leash.  These items prevent pulling without hurting your dogs neck, trachea, heart, or lungs.  It also keeps your dog under complete control of your dog walker.
Cleanliness
We pick up all #2 when your pet goes in our care, on or off your property. One less #2 for you to pick up.  We will also wipe off/dry your dog when wet or muddy after walking.
Cost
The cost of your afternoon dog walk is comparable to the cost of doggie day care.  If you have multiple dogs you will save money using a dog walk service instead of doggie day care. The advantage to you is no drop off/pick up and NO fur in your car.  For your dog, they get to stay in the home without having to deal with any other dogs they don't know or a tummy upsetting car ride.
Location
Sarah's Pet Sitting services ALL of Wallingford & Cheshire.  We can also service some other areas close to Cheshire so please inquire.  If you're out of our area, please don't hesitate to contact us with your email address and we will send you our referral list of Professional Dog Walkers.
Please let us know ALL your questions and concerns about our dog walking service.  Summer is the best time to start because we have the most dog walking spaces available in our schedule.  We tend to fill up in the Fall/Spring.  Please call Sarah MacDonald, Sarah's Pet Sitting owner/manger to learn more about our dog walking service today at 203-439-0456.  You may also "REQUEST INFO"  We hope to be meeting you soon.