Homemade Holiday Dog Treats
By Sarah's Pet Sitting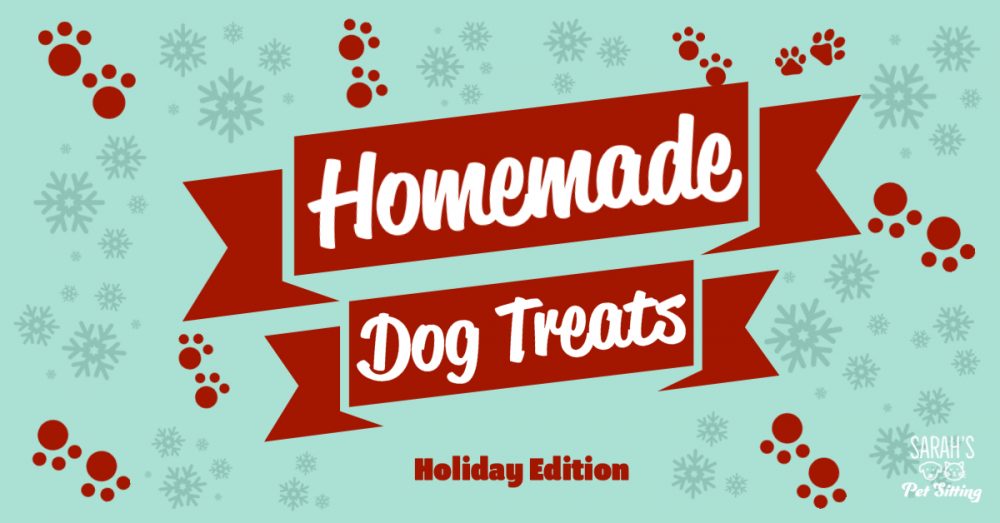 Homemade Holiday Dog Treats
It's that time of year again, with cookies and delicious food everywhere, no wonder our pets give us puppy eyes! Include them in your holiday baking with some easy (and safe) homemade dog treat recipes. Be sure to have some holiday shaped cookie cutters on hand to make these treats extra special!
Peanut Butter Bites
Ingredients
3 tablespoons olive oil
¼ cup all-natural smooth peanut butter, no salt, sugar or xylitol added
¼ cup honey (not raw honey)
2 eggs
2 tablespoons water
2 cups whole-wheat or rice flour
1 ½ teaspoons baking powder
Directions
In a large bowl, mix all the ingredients well until the dough is stiff; if it is too sticky, mix in a small amount of flour.
Knead the dough on a lightly floured surface until firm. Roll out the dough to half-inch thickness, and cut out shapes with a cookie cutter.
Put the cookies on a baking sheet ½-inch apart. Bake at 350° F for 20 to 25 minutes.
When done, the cookie should be firm. Turn the oven off, and leave the cookies in for 1 to 2 hours to harden.
Pumpkin Pup Cookies (Peanut Free)
Ingredients
2 cups + 2 Tablespoons whole wheat flour all purpose is fine
1/2 Tablespoon baking powder
1/2 cup pumpkin purée
1/4 cup water or milk
1 large egg
4 strips cooked bacon (save the grease for later) chopped into small pieces
Directions
Preheat the oven to 350ºF. Line a large baking sheet with parchment paper or a silicone baking mat. Set aside.
In a large bowl, whisk together the flour and baking powder. Set aside.
In a medium size bowl, whisk together the pumpkin, water or milk, and egg until smooth. Whisk in the bacon and bacon grease.
Pour the wet ingredients into the dry ingredients and mix gently until everything is combined. You may need to use your hands.
Turn out dough onto a floured surface and roll out to approximately 1/4″ thick. Use desired shape cookie cutter, re-roll, and cut again until there is no more dough left. Bake dog treats for 30 minutes, flipping treats over halfway through baking. Store dog treats covered at room temperature. Treats may be frozen, up to 3 months. Thaw at room temperature.

If you make any of these treats please let us know how your dogs like them or post a picture to social media using #sarahspetsitting
Happy Holidays!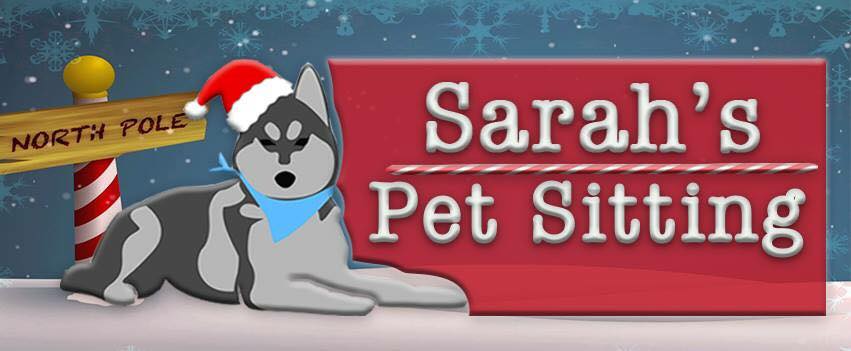 Get Started
We can't wait to meet you and your pets!
Get Started with Sarah's Pet Sitting Today!
Proudly Servicing Cheshire, Southington, Wallingford, Hamden, Meriden, Bethany, Plantsville and Prospect
Get Started