If you feel or think that your dog is too nervous or scared to hire a pet sitter…please call Sarah's Pet Sitting at 203-439-0456 or Request Information Here.
As an employee of Sarah's Pet Sitting Team we take are time to get to know your dog on their terms and at your home.
We have several different methods for working with nervous & skittish dogs and cats.  All techniques used by Sarahs' Pet Sitting are Force Free, gentle, and compassionate approaches to help your dog feel comfortable and safe with their pet sitter visiting them in the comfort of their home.
Pet Sitter Annie was hired to care for a dog who was very afraid of people, and needed a short walk and potty break several times a week because the owners had work schedules that change, week by week….at first she couldn't get near her so the owners and Annie had several short visits where she would come over to there home and sit on the floor and have some treats  in hand and let the dog come to her when she was ready. After about 2 short visits later she took some cookie treats out of pet sitter Annie hand and a trusting relationship developed. Continued work was .we didn't want to cause her any stress so we decided to try this method :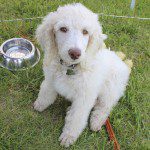 The owners would put there dog in the crate on the days I was to walk her….I would approach her cage very carefully and quietly so I wouldn't scare her…open the crate door and was able to put on her harness and then take her outside for a walk in the yard
We would sit on the patio together ..ever so quietly with me just whispering to her and calling her name…and petting her softly on her head and under her chin which she absolutely loves…
We would then go inside and she let me take off her harness and would come to me for treats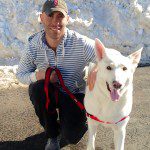 It took about 3 months of using this approach and then one day Dad forgot to put itty bitty in the crate and I came for my afternoon walk and itty bitty came right up to me…let me put on the harness and off we went
We have never used the crate since that day…I have been taking care of itty bitty for 2 years now much to the delight of there owners and have fallen totally in love with her…and her for me
We take are time to get to know you , as owners, your dogs and what special needs your dog or dogs may have and find the best solution to assist you as the owner so that you are comfortable with us as a pet sitter and dog walker and to insure that your dog trusts us and is safe…this is a Win Win for both us , as pet sitters and for your dog…Safety and peace of mind is one of the most important things that as a Team we strive for at Sarah's Pet sitting..now offering pet sitting and dog walking in Cheshire, Wallingford, Hamden, Plantsville and South Meriden
We look forward to meeting you and your dog soon
Pet Sitter Annie""