Go to Mat is great for dogs that struggle with polite greeting and over excitement.  It introduces your dog to an area where he or she can go to calm down, as well as giving him something clear to do when company comes over.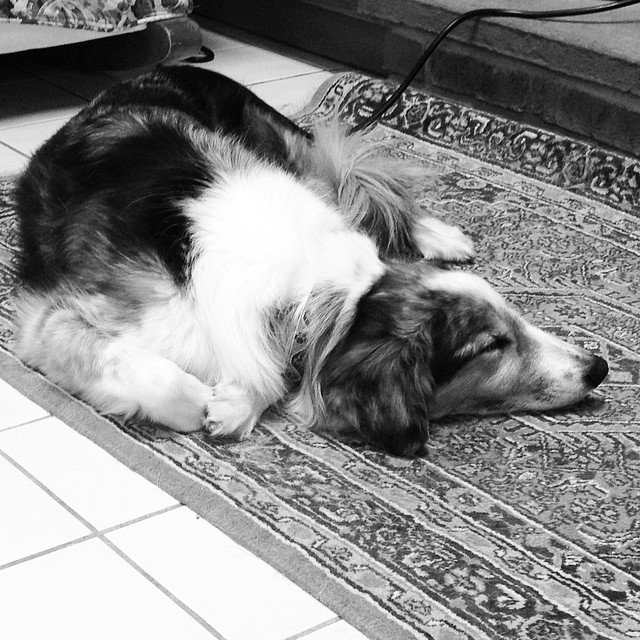 This behavior is easiest to teach with a clicker.  If you want to learn more about clicker training set up a consult to talk with or Certified Dog Trainer who would be happy to guide you in applying clicker training with your dog.  The following guide is the slightly harder way of luring.  
Begin by placing the mat on the ground in a small area.  Lure your dog onto the mat with a treat.  Toss a second treat off the mat to move him away.  Again lure your dog onto the mat and toss a second treat to move him away.  Move around little as you do this, sit or stand, or take a few steps away.  Right now all you want is her moving towards the mat.  Once your dog is offering this behavior on her own, say "Go to Mat" just as she starts to move towards the bed. Begin to use the cue to prompt the behavior. Stop giving her treats if she does the behavior without the cue.  You can begin to cue her to lie down before giving her the treat.
Begin to use the word 'free' when you toss a treat away from the bed.  This will be her release word, to let her know that she can leave her mat.  
Empty attachment or post type not equal 'attachment'
Begin to build duration.  Wait a few moments after she lays down before you give her the treat or say the release word and toss a treat.  Repeat a few times and then wait a little longer.  Continue to build up the time that she will hold a down stay on the mat over the next few days.  Offer her a few intermittent treats on the bed as the times she is staying gets longer.  Your end goal is several hours, but build up to it slowly.  
Build some distance.  Send your dog to her mat from farther and farther away.  Continue to reward her in place on her bed as well as using the release word.  Your end goal is to be able to send her to her mat from anywhere in your house.  
Build difficulty.  Send your dog to her mat when interesting things are happening.  Work slowly and start with easy things, like having another person there, and then have that person talking, bouncing, singing, or playing with a toy.  Work slowly and be willing to retry things a little easier if she struggles with listening.  Once your dog starts getting the hang of things you can begin to start fading treats out slowly.  Continue to use praise and opportunities to play as rewards.