Sarah's Pet Sitting is available for Professional Dog Walking, Jogging, & Running in Cheshire, Wallingford, Southington & other nearby areas.
Week Day Dog Walking
Our Dog Walking service is available Monday through Friday from 9 a.m. to 4 p.m. we have three time windows to choose from.  9 – 11 a.m. or 11 a.m. – 2 p.m. or 2 – 4 p.m.

Visits are approximately 30 minutes in length with about 25 minutes of leash walking, playtime, and/or snuggle time with your pet.  We also have quick 15 minutes potty breaks available.

Leash walking can also be included with any pet visit whi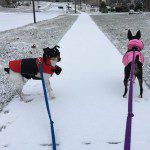 ch are available 7 days from 7 a.m. to 10 p.m.
Week Day Dog Jogging/Running
Dog Jogging or Running is available with Canine Coach Alex in all of Cheshire & other nearby areas.
*Visit includes ANY number of pets.
*We can leash walk up to three dogs at a time that walk well together
*We can let out ANY number of dogs into a fenced in yard for active play time
*Visit activity is customized for your pets need
*Includes fresh water & a treat for each pet at each visit
*Includes pet mess clean up
*Includes GPS Check In & Out AND a Pet Sitting Notebook entry from your pet sitter.
*Rates available between $18 – $24 per visit.
Please see our video featuring some of our happy dog walking customers!