We are currently interviewing and looking to hire local pet sitters and dog walkers to join the Sarah's Pet Sitting Team.
Applicants should live in Cheshire, Southington, Wallingford, Hamden or Meriden.
Although we receive a ton of interest in our pet sitter and dog walker positions from all over the state, we choose to only hire locally. Hopefully you'll read more to learn why and then review our NOW HIRING page for more information and access to our online application.
Here are some of the reasons that Sarah's Pet Sitting hires locally and why this is crucial to the Sarah's Pet Sitting way of doing business.
1. We are a local business, Sarah's Pet Sitting office is located at 98 Elm Street, Cheshire, CT, 06410. Sarah's Pet Sitting currently services all of Cheshire, Southington, Wallingford, Meriden, Hamden and North Haven. We also can partial service certain areas of Bethany, Prospect and New Haven. It is very important to us to keep our service area minimal so we can give our very best to our local clients and not over extend ourselves. Managing this type of business has many moving parts and efficiently managing a very large service area is an extreme challenge.
2. We do not work normal shifts. Being a pet sitter or dog walker is not a job that you can easily commute to each day and then go back home. Each one of our amazing clients is assigned a primary sitter that is closest to him or her, ideally within 5 miles from their home. Our pet sitters typically service all clients that are within that 5 mile radius and are often driving out to our clients multiple times per day.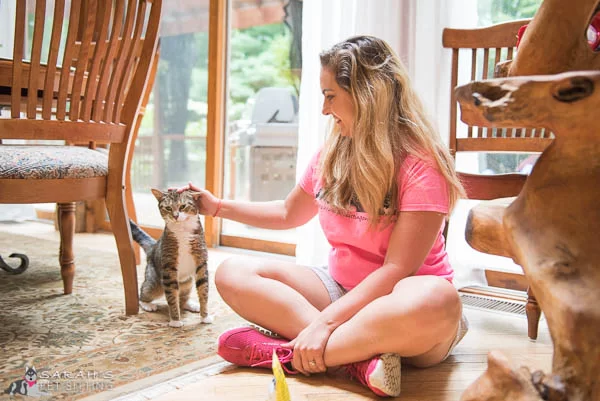 3. Each Sarah's Pet Sitting employee may leave home to complete a visit anywhere from 1-5 times per day depending on our current needs and their availability. Often our sitters have up to 5 visits in a row but occasionally they may be driving out to a client for just one visit at a time. It is essential that the pet sitting visits and dog walks they are assigned to are close to home, otherwise driving time and the gas cost involved becomes impractical.
4. Most importantly, Alex and Sarah MacDonald, the owners and managers of Sarah's Pet Sitting live locally in Cheshire, CT. So, it's essential that all of our clients be within a reasonable driving distance from us.  If one of our employees gets sick, has car trouble or an emergency we take over the care that employees visits.  As the owners of Sarah's Pet Sitting we are the ultimate responsible parties and the back up for all of our pet sitters.  It is imperative that we be able to drive to all of our clients within a reasonable amount of time so that we can continue our excellent and timely service in the event that our clients original sitter unexpectedly becomes unavailable. 
Get Started
We can't wait to meet you and your pets!
Get Started with Sarah's Pet Sitting Today!
Proudly Servicing Cheshire, Southington, Wallingford, Hamden, Meriden, Bethany, Plantsville and Prospect
Get Started