Missing a Cat | What to do in the first 48hrs
By Zoe of Sarah's Pet Sitting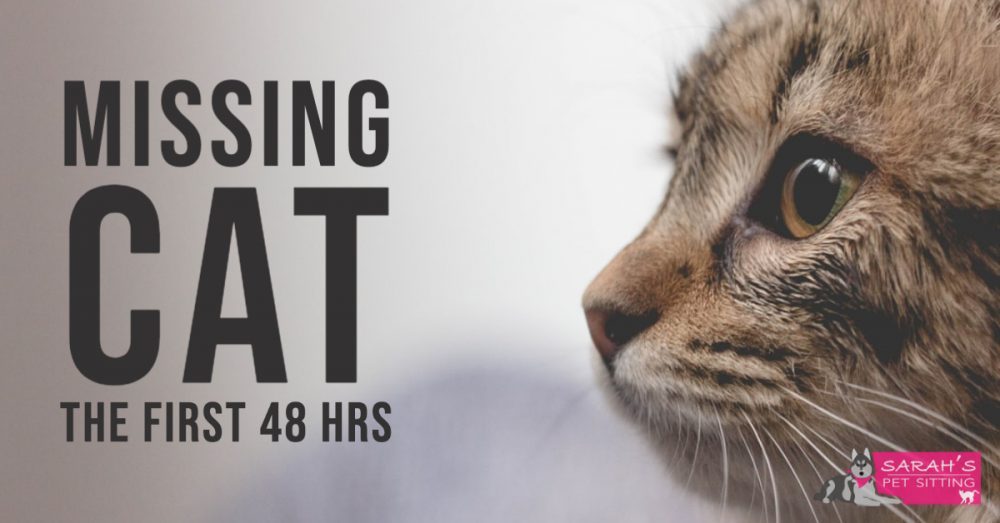 "Cats with microchips were found to be more than twenty times as likely to be reunited with their families." (Cheryl Yuill, DVM, MSc, CVH)
Cats are our family and when your furry loved one disappears, it can feel like a piece of you was lost. The first 48 hours are crucial to finding your pet. The first steps to take would be to search the house and in any hiding spots. Check around the house's exterior, in a garage/ shed or under a car. The cat may be not far from the property, so a good comb of the yard and neighborhood might bring results. Let your neighbors know you have a missing cat because if they stumble across a feline, they know who to go to.
File a lost animal report via phone and in person. This will alert more people to be on the look out. Contacting all local shelters or animal control in a 5 to 10 mile radius and sending a photo of your pet will assist the search too. Checking with these facilities daily and asking to see the recent surrendered/ rescued cats is another way.
Print brightly colored missing posters with your contact phone number, a picture of the cat, last location seen and their name. (Reward is optional) Side poster into ziplock bag as protection from weather conditions; like rain. Attach posters to outdoor areas like parks or trees. Ask businesses if you can hang posters as most places request permission. Also, make sure to answer or call back all incoming calls, as it may be someone who has your pet.
Microchipping your cat
is another way of finding your pet. Like a license on a collar, this grain of rice sized device stores that same information inside of your cat. Microchips are tamper proof, safe and extremely effective. Almost all vets have a chip reader, but it is also a good idea to get your cat a collar with a license regardless.
Learn more about microchipping here.
Most importantly, use social media!
Take your poster details and include a photo in your post. Mass sharing to local groups to get word out is a great strategy. Posting on the internet might gain more visibility than just physical posters in town. Make daily updates and engage with other users.
"The main reasons that owners were not found if the cat was microchipped, were that the telephone number was incorrect or disconnected, or the owners did not return the phone call or letter from the finder." (Tammy Hunter, DVM)
Get Started
We can't wait to meet you and your pets!
Get Started with Sarah's Pet Sitting Today! Proudly Servicing Cheshire, Southington, Wallingford, Hamden, Meriden, Bethany, Plantsville and Prospect
Get Started